MINI COCONUT CAKES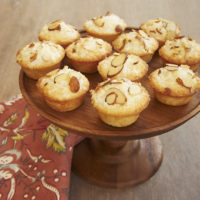 http://www.bakeorbreak.com/2015/03/mini-coconut-cakes/#bOyOLbbgFS0liJS4.99
Coconut and almonds star in these sweet, simple, and delightful Mini Coconut Cakes.
yield: 24 MINI CAKES prep time: 15 MINUTES cook time: 18 MINUTES
Ingredients
1 1/2 cups unsweetened dried coconut 355ml
3/4 cups granulated sugar 151g
1/2 cups all-purpose flour 63g
4 large egg whites
1 pinch salt
1/2 cups unsalted butter (melted and slightly cooled) 114g
1/4 teaspoons almond extract
2 tablespoons sweetened coconut flakes
2 tablespoons chopped almonds (or sliced)
DIRECTIONS:
Preheat oven to 375°F. Grease a 24-cup mini muffin pan.
Combine the unsweetened coconut, sugar, and flour. Set aside.
In a large bowl, whisk the egg whites and salt just until smooth. Add the butter and almond extract, and whisk until combined. Whisk in about half of the coconut mixture. Then gently fold in the remaining coconut mixture.
Spoon the batter into the prepared pan, filling each cup about 2/3 full. Sprinkle the sweetened coconut and almonds over the top of each cake.
Bake 15 to 18 minutes, or until the cakes are golden brown and set. Transfer the cakes to a wire rack to cool completely.
Nutrition
Calories 160
Sodium 2% 45mg
Fat 14% 9g
Protein 4% 2g
Carbohydrates 6% 17g