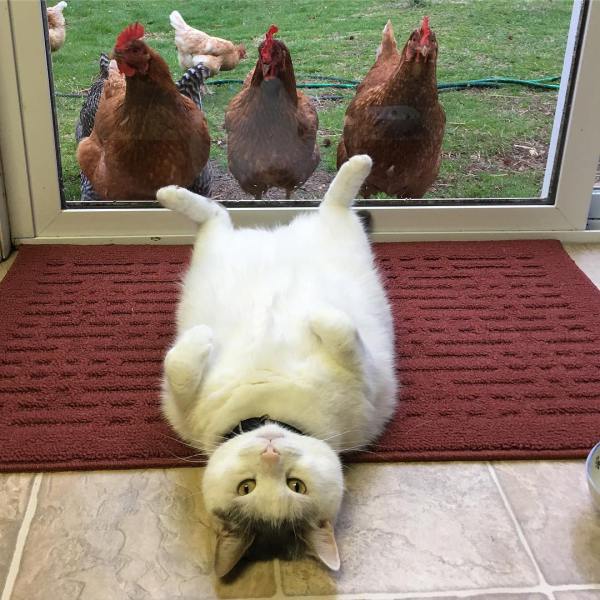 Title: On Display
Author: charisstoma
Word count: 513
It was the commotion at the back door that drew Glen to look. He wasn't the only one looking.
There on the door mat was Cicero lying on his back his furry tail end to the glass and the chickens who were talking loudly amongst themselves.
"Ciss, must you place yourself on display like that. There's been enough trouble with the rooster as it is. Unless you like the rooster's attentions. He's got enough to do with the hens, he doesn't need to prove himself with you too."
Cicero impossibly stretched longer to the enjoyment of the hens.
Glen shook his head,"Flasher. You better be careful. It's possible to have chicken cat offspring. You think being constipated is bad, think about pushing out a kitten sized egg."
Nimbly Cicero rolled to the side and up where he proceeded to groom ironically the base of his spine near his tail.
"Thought you hadn't considered that particular complication."
"Will you stop interfering." It was a tall red haired man outside the glass of the door. "Ciss, the hens lay eggs all the time. Claim it's better than like being fucked."
"Well that's not surprising. You jump on them and then you're done. Kind of a slam bam thank you ma'am." Glen was not pulling any punches.
The man outside the door returned to his rooster shape and stalked off into the yard.
"Well you scared him off, didn't you." Cicero now stood with his hands on his hips facing Glen. "I'm all warmed up with no one to fuck me."
"Enough with your tom catting ways, Ciss. If you want me, you don't have to tease the rooster. Just show up on my bed in human form and I'm more than willing to satisfy you. BUT, I demand you give up your wantonness. If you're with me than you're with me only."
"That a proposal?"
Glen squirmed, "well, um, yes."
There was a flurry of arms and Glen found himself being rubbed on and kissed at the same time. Guess it was difficult to take the cat out of the cat familiar.
"I've loved since the first pet, you know."
"Uh huh," there was strong skepticism in Glen's response. "I on the other hand have loved you since you showed up wet and forlorn on my doorstep. You wound your way into my heart with stealthy paws."
Scattering kisses over his human wizard, "As I intended. It's all in the presentation. I had to wait until the first decent rainstorm."
Kissing back, Glen descended into surrender, "As I'm glad you did. BUT no more teasing the rooster."
Laughing, "I don't like slam bam, thank you ma'am. Well maybe sometimes but I like my lover to be that, my lover. Roosters don't do it for me. A certain wizard will though."
"Good."
"Good. Meet you in the bedroom." Cicero in cat form cheated, made it to the bed first, where he lolled back in all his naked human form reminiscent of how he lay on the door mat to the appreciation of the hens.