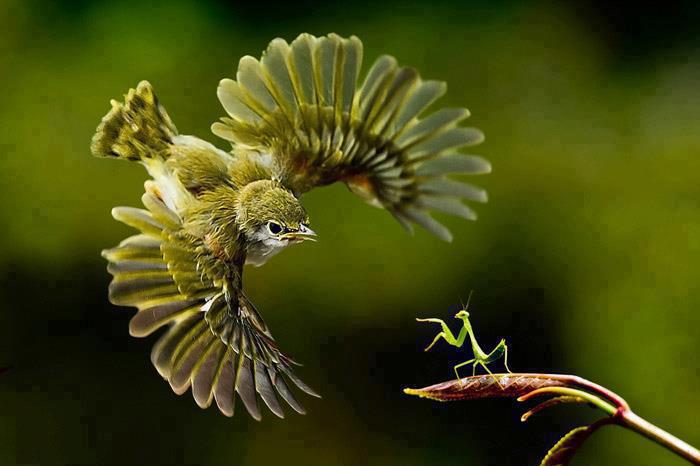 Title: When Bird meets Mantis
Author: charisstoma
Word count: 449
Vis was not going to let a good meal go to waste even if he wasn't hungry, that's not the way his parents brought him up. 'You never can know when you will find food,' was a favorite adage of theirs. So he swooped down on the mantis and watched in awed surprise as the crazy thing reared up with its forelegs positioned to grab prey. At almost the last minute he pulled up but it wasn't going to be enough and so he shifted.
The mantis should have bounced off Vis' greater bulk but Vis found himself thudding into a larger body which took the brunt of the impact as they both hit the ground. Vis was on top but that quickly changed too.
"Well hello to you too," said the man with the greenest eyes Vis had ever seen.
"You're the mantis?" Vis asked gloomily.
With a grin, "Yep."
"Well Ants! "
The other shifter laughed, "Language."
"Yeah, well how would you feel if you found a good meal who turned out to not be meal eligible."
"Oh you can eat me but not quite the way you were thinking," the mantis now man purred, "I wouldn't mind that at all. In fact I'd make it worth your while but I claim reciprocal service, at least until we get to know each other better. Don't mind a blow job from a stranger but for more well…."
"Oooo-kay:
1. We haven't been introduced.
2. I don't put out anything on first meeting. "
The stranger grinned.
"3. Um, I've never done anything like that before."
"Never?"
"Never," Vis said firmly blushing, "And you're getting heavy."
The weight atop him eased a bit as the mantis levered himself up a bit onto his elbows.
"Ptery, with a P. Feeling very happy to meet you," his hips ground into Vis' belly rubbing against him.
"Happy, huh? Is that what you call it."
"Yes, yes it is. Soon to be happier, I hope. And you would be…."
"Vis. I'd say pleased to meet you but … you know."
There was a sigh, "Yeah. I know. How about a do over? Meet you here in an hour?"
"How will I know its you?"
"I won't be in my insect persona."
"Okay. Um it might be better if you could find some clothing to put on too."
Ptery grinned, "I'd say the same to you but I like the view and feel too much."
"Perve." Vis grinned.
"One kiss before you go?"
"I don't put out on first meetings."
"Vis, you do realise that kissing's not putting out, don't you?"
"Yep," Vis chirped and flew off to get clothed. He had a date.